Microlise offers an AI Distraction Camera as an option within its ClearVision vehicle camera range, giving operators the tools to reduce risky behaviours such as smartphone use whilst driving.
This driver facing camera uses AI technology to detect risky behaviours including seatbelt usage plus a range of distracted driving behaviours.
The fully integrated ClearVision AI Distraction Camera helps create a safer working environment for drivers.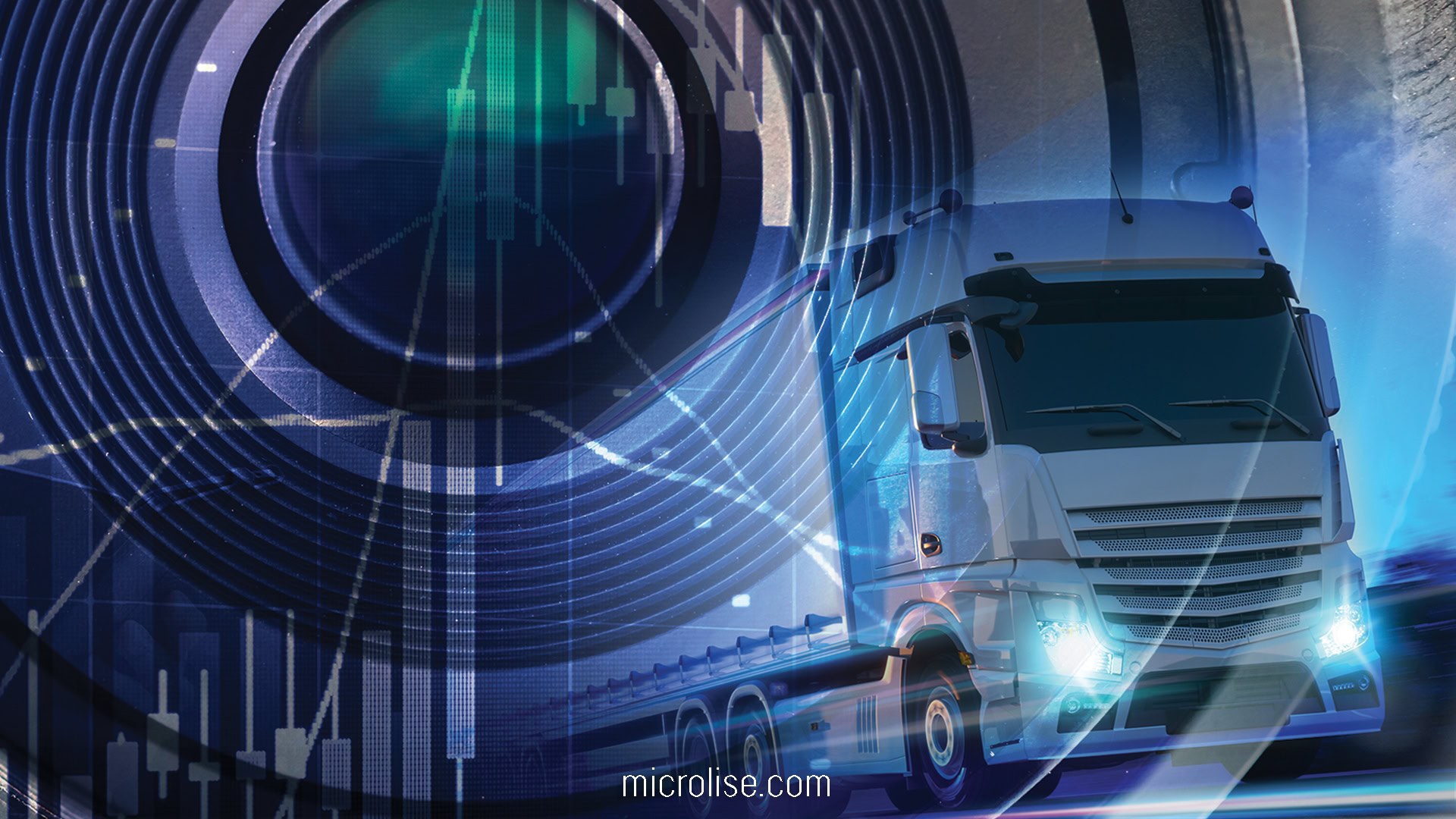 The vast majority of operations take the Health and Safety of their employees very seriously. Most, if not all, provide equipment to employees and offer training around best practice in high-risk areas such as warehouses or in stores where members of the public may be present.
But what happens when vehicles leave a depot? What procedures does your operation have in place to ensure your drivers are not risking their lives, and endangering the lives of other road users, though often habitual risky behaviours?
On the A1(M) motorway near Durham in July 2021, Ion Nicu Onut killed three people when he drove at 58mph into stationary traffic. According to BBC News, Durham Police said he was a "normal guy" who made a "devastating decision". He was accessing dating sites on his phone for about 40 minutes before the crash and failed to notice the traffic ahead of him had ground to a halt. Onut was jailed for almost nine years.
It comes as no surprise that our reaction times when driving are significantly reduced when distracted. According to the Transport Research Laboratory, telephone use while driving (whether hand-held or hands-free) increases the likelihood of being involved in a crash by a factor of four, while texting increases crash risk by around 23 times. Distracted driving by mobile devices such as smartphones and/or other in-vehicle devices is a growing risk factor linked to serious negative outcomes.
Through telematics, Microlise has always played an important role in helping to manage risk on our roads but through the introduction of our AI Distraction Cameras, we are able to target risky behaviours at a much deeper level.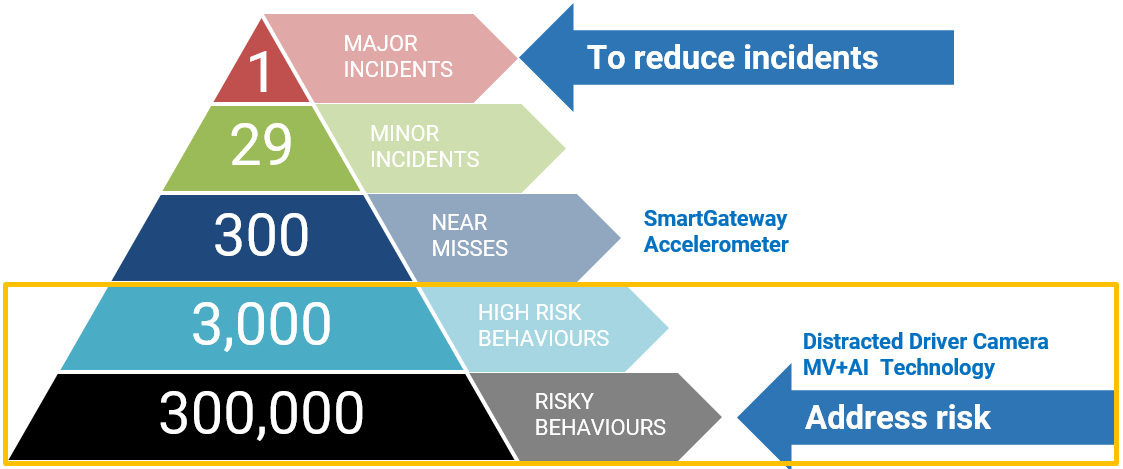 A Heinrich Pyramid is often used in Occupational Safety and Health Administration to assess risk. The theory behind it is as follows; for every 300,000 acts of risky behaviour, there are 300 scary near misses, 29 acts that lead to a minor incident and one act that leads to a serious injury or fatality. A driver may have a habit of using a smartphone but is still allowing adequate following distance. On one occasion where insufficient distance is allowed, combined with the habitual use of a smartphone can lead to a serious collision.
So, to prevent serious collisions, it's necessary to identify and prevent risky behaviours early. This allows for a more proactive approach to accident prevention through First Notification of Risk (FNOR) rather than the reactive approach of managing the accident once it has happened through First Notification of Loss (FNOL).
The Product
The ClearVision AI Distraction Camera offers a tool to identify risky behaviours as they occur. It is a driver facing camera which can detect risky behaviours such as mobile phone use along with other forms of distracted driving and, through alerts in the cab, give drivers the opportunity to change their behaviour.
The ClearVision Distraction Camera is fully integrated with the Microlise system. If a driver persists with their risky behaviour, the camera will alert the driver and create an event in the Microlise system, thus alerting managers of the behaviour to be picked up at debrief. Footage can be requested in much the same way as with other ClearVision cameras to support any debriefs that take place.
Previously, Microlise products were in place to help deal with FNOL. The Incident Data Recorder offers granular level detail around what the vehicle was doing at the time of an accident. When combined with camera footage, a comprehensive snapshot of what happened could be built to establish liability quickly.
ClearVision AI Distraction Cameras can now offer an opportunity to help minimise risk and potentially prevent those accidents that occur through distracted driving. It should be seen as an essential extension of Heath and Safety best practice, aimed at creating a safer working environment for drivers and other road users.
The Benefits
Create a safe working environment to help protect drivers – Taking Health and Safety protocol beyond the traditional workplace to cover mobile workers on the road.
Real-Time Driver Self-Correction – First alerts allow drivers to adapt and change their behaviour before the system records the event.
Proactive Accident Prevention – FNOR flags risky behaviour early meaning, in many cases, the accident never comes to fruition. It's highly likely that companies using the system will realise a reduction in accident rates.
Protect Drivers – Establish liability quickly – Accidents, especially when they involve fatalities, are stressful times for drivers. Proving liability quickly helps reduce unnecessary court cases and the associated stress for all involved.
Reduce Insurance Costs – The high likelihood of a reduction in accident rates through mitigating risky behaviour, translates directly into a reduction in insurance costs.
Help Keep Vehicles On The Road – Insurers have found that just 2% of incidents recorded on four-way cameras result in disputed claims, versus an industry norm of 40%. With 98% of claims undisputed, vehicles are far less likely to be off the road as part of an investigation.
Fully integrated with Microlise – encouraging drivers to change their behaviour is best realised when a degree of proportionate enforcement is in place.
In Conclusion...
The accident on the A1 near Durham could have been prevented with the use of the ClearVision AI Distraction Camera. Here's what the most likely outcome would have been if the camera was in place:
Ion Nicu Onut was driving at 58mph. He accessed a dating site on his phone and was alerted in-cab. An event was triggered on the Microlise system. Onut put his phone away. Nothing else happened. No one was killed. Onut was called for a debrief, shown the footage and coached in safe driving.