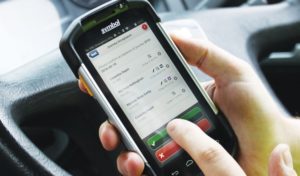 We've been hearing that some smaller transport operators, with fewer resources and access to technology compared with the big players, have been missing out on opportunities because they are struggling to meet tender requirements.
Same-day proof of delivery and real-time tracking are becoming common requirements in tenders. This may not sound like a big stumbling block, but for smaller owner operators who can't meet the criteria, it could mean that their business is not even making it past the first hurdle when bidding for work.
The good news is that mobile technologies are making it easier than ever to meet the burden of proof and help smaller operators achieve rising compliance requirements.
Shifting O-licence Trends
According to Motor Transport's Overview of the UK Commercial Vehicle Industry, the sole trader still holds the largest share of O-licences at 42%. And owner-drivers account for 9% of all vehicles specified to UK O-licences; though this figure shrank year-on-year.
The report also uncovers that fleet sizes are getting bigger with a rising average number of HGVs per O-licence. Could this increase be at least in part due to the technology advantage larger operators are gaining?
Just 1.14% of O-licences in use or issued are held by operators with a fleet size of 51 trucks or more and they operate over 28.58% of the total UK vehicle parc.
Mobile First Systems
Technology is helping to level the playing field. The sophistication, affordability and availability of smartphones is enabling smaller hauliers to carry their business with them, in their pocket.
Microlise's proof of delivery mobile app – SmartPOD – for Android smartphone devices is one example of this. It provides an affordable pay-as-you-go solution which arms sub-contractors with the tools needed to easily meet and exceed tender requirements.
And because Microlise is the market-leading provider of telematics solutions to larger HGV fleets, it means compatibility and easy integration with many larger operators. It also has the added benefit of enabling quicker invoicing and ultimately faster payment following a job.
The app features all of the functionality of a traditional ePOD solution including tractor/trailer confirmation, journey manifest download and site arrival & departure time-stamping. Journey mileage capture and proof of collection/delivery at site also includes quantity validation, image capture and exception reason code capture. There's also live location tracking whilst on a job for accurate Estimated Time of Arrival (ETA) calculations.
This can all be run from an entry-level smartphone and without any complicated IT requirements. Just a few years ago this would have been unthinkable.
The Tech Fight Back
There was an almost 3% fall in vehicles specified to O-licences with two to five HGVs in 2015, down to 69,305. I wonder whether we will see this trend continue or if new in-pocket technologies will have an impact as they help small operators shift the balance of power back in their direction. Time will tell.