2020 has been a strange year so far but Microlise has kept developing new features and functionality aimed at enhancing system usability and delivering more information to users. 20.8 brings together a series of small functions around managing vehicles… especially trailer fleets.
Trailer Telematics
Over several months we've made a series of changes in Fleet Performance to introduce new functionality around the management of vehicle and trailer fleets. The introduction of the side panel on the live fleet visibility map has given us the ability to deliver a wider and more in-depth range of user information on sites, vehicles and now on trailers, helping to make tracking and management easier via a more accessible and efficient system interface.
In addition, development around Trailer Identification has enabled us to identify which trailer is connected to which vehicle and couple the two within the system, either automatically or by linking them through their journey allocation.
Completely new functionality includes a new suite of trailer related reports along with a vehicle overview page. This page includes detailed information about the vehicle and/or trailer, and the 'vehicle type' classification (alongside the pre-existing 'vehicle profile', which is now mandatory) to help users find their desired vehicles more easily by searching/filtering on the live fleet map or through the table-format view of trailers on a site that becomes available when a site is selected on the map. Even simple changes like the introduction of an icon to indicate a connected tractor / trailer on the map has made a big difference in terms of the user interface.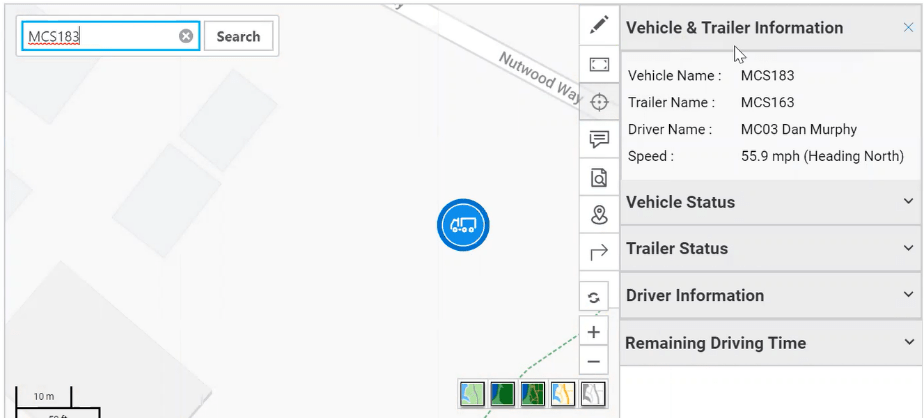 These updates will increase visibility of real-time fleet data, allowing users to proactively organise their vehicles and trailers to meet the demands of their fleet and should lead to a reduction in operational costs by enabling fleet managers to identify frequent excess capacity and 'off-road' vehicles that require maintenance. Above all, the changes enhance system usability. You'll find further information about the new trailer functionality in the 20.8 release notes and can check out ongoing system improvements by registering for our 20.9 Release Overview webinar.
ClearVision Integrated Multi-Camera Solution
Staying with Fleet Performance, our camera solution has also seen improvements as part of this release. Four camera feeds can now be viewed simultaneously within the video player, if they are part of the same video request. Where more than four feeds are part of the same video footage request, the user can use tick-boxes that will appear on the left hand side of the screen to show or hide feeds during video playback. Users are able to gain access to the web video player from the Fleet Playback and Incident Analysis screens, expand the four pane view to show as a full screen view, or expand one of the individual camera panes available to show in full screen mode in isolation.
Mobile ePOD Apps
The SmartPOD ePOD app has also seen new enhancements. After the work in 20.7 for the Web Portal focusing on temperature alerts, the SmartPOD application can now alert drivers if the temperature in the back of their vehicle is outside the optimal upper and lower limits for goods being carried. This will help drivers to be aware of and proactively counter any temperature control issues or escalate them for further action if appropriate while on a journey.
A further advancement to SmartPOD is the ability to store a preferred payment card. Customers can now choose to opt-in to saving and reusing their payment card details between deliveries. While only one set of card details will be saved at any one time, this will increase the speed of processing deliveries and provide more convenience and a better payment experience with the customer only being required to enter their CVV number to confirm payment. It's worth noting that saved payment card details are stored by WorldPay, not by Microlise.
Functionality to our SmartFlow app has also been extended. It can now capture mandatory information around trailer seal checks which is particularly useful for subcontractors using IOS devices to feed information into the parent system.
Planning & Optimisation
Finally, our Planning & Optimisation product has seen some developments. Planners can now allocate a fixed or variable time for additional activities on site (or service time), such as time taken to park a trailer, complete compliance related paperwork or to go through a gatehouse security process or COVID-19 checks, etc.
Whilst latitude/longitude readings will still be prioritised for routing purposes due to their accuracy, the Planning & Optimisation product is now capable of geocoding (i.e. converting the house number, street, city, postal code etc into a workable latitude/longitude reading) the address information instead. The system will also flag when address details are incorrect allowing the user to take appropriate action.
Continuous Improvement
In line with each release, we hold a webinar to run through the new features and functionality. If you're a Microlise customer and are the person within your organisation that receives the release notes, be sure to register for the 20.9 release webinar as below. Alternatively, our account managers are always happy to help with any more immediate questions you may have.