The Driver & Vehicle Standards Agency (DVSA) has recently altered their guidance for fleet operators to further highlight the importance of monitoring and managing trailers.
To help fleet managers be confident in the safety and compliance of their vehicles, Microlise has introduced Trailer Brake Performance Monitoring (TBPM) as part of our wider Trailer Telematics solution.
Why TBPM?
Microlise TBPM, in line with the DVSA's guidance on the use of Electronic Brake Performance Monitoring Systems, has the potential to reduce the quarterly requirement for rolling road tests to just one per year by continuously monitoring your trailer's brake performance.
Good maintenance is essential to running a safe, efficient and compliant fleet. Monitoring the wellness of a tractor starts with frequent walk-around checks, which can be hugely effective alongside the array of warning lights and alerts on the dashboard. This in-cab technology can only go so far when it comes to trailers, however, which often receive little more than a tyre check before a driver sets off.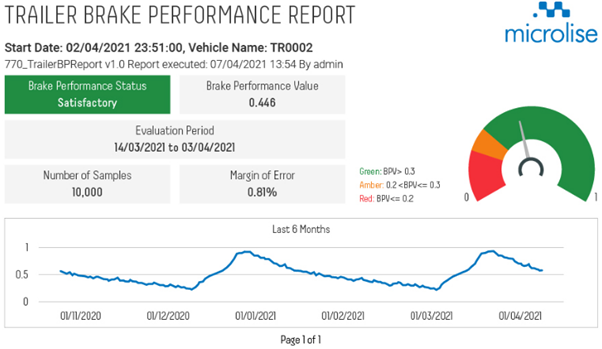 Interested in finding out how TBPM can help you locate and get the most out of your trailers? Get in touch directly to book a demonstration or speak to your account manager today.
Why is it so important?
A trailer's brakes can be an essential factor in a vehicle's road safety – and fuel efficiency –  but the process of checking them can be a little more hands-on.
In the UK, the DVSA maintains a set of standards for good maintenance of commercial vehicles in their Guide to Maintaining Roadworthiness document, outlining their best-practice recommendations for responsible fleet operators. This also contains guidance on trailer braking performance, stating that "It is strongly advised that a calibrated roller brake tester (RBT) is used at each safety inspection" and "it is also best practice to test the vehicle or trailer in a laden condition".
While maintaining fleet safety is one of an operators major concerns, these frequent rolling-road brake tests can present a significant cost to fleets in both vehicle downtime and the financial cost of quarterly testing. Electronic monitoring through vehicle telematics provides fleet operators a simple and cost-effective way to start tackling this issue head on.
The Product
Microlise's Trailer Brake Performance Monitoring (TBPM) uses EBS diagnostics data to calculate brake performance, feeding this through the Microlise system. Improved visibility of the data that their fleet is generating makes it easy for operators to analyse the performance of their trailers, detecting and managing issues by exception. Our trailer brake performance monitoring system is compatible with most modern Knorr-Bremse and Haldex EBS systems.
Fully integrated into our Trailer Telematics solution, which offers full trailer utilisation data including temperature monitoring, trailer cameras, door status alerts and more, TBPM provides yet another valuable addition to Microlise's existing end-to-end fleet management solution.
Simply by clicking on an individual trailer on our Live Fleet Map, users can identify at-a-glance where their trailer is, which vehicle it is connected to, and the status of their trailer brakes. This makes it easy to identify trailers with EBS issues.
A drop in braking performance will also trigger a link to further information, making it easy to track trends in the data generated by that trailer over time. Operators can then take these trends and make an informed decision on whether it is time to schedule that trailer for regular maintenance – or if emergency intervention is required.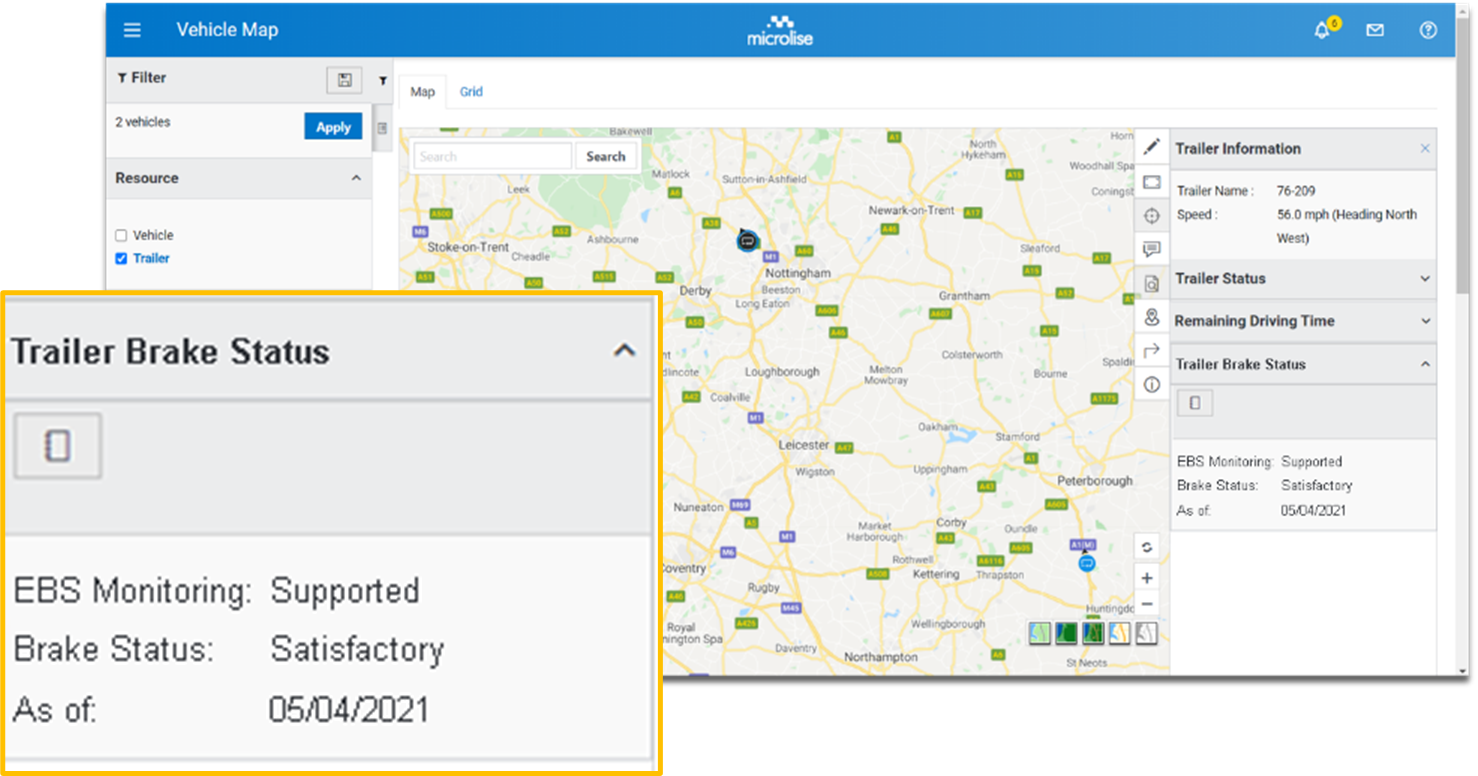 Whether users wish to see it on-demand or to subscribe for automatic updates, a report is available within the Microlise system to enable a fleet-wide view of this trailer data. This makes it easy to spot and address those trailers that are underperforming compared to the rest of the fleet, or conduct further analysis of any performance issues the system has flagged for a user's attention.
The Benefits
Reduce costs & remain compliant
The ability to monitor the performance of your trailer fleet's braking system makes a proactive stance to trailer management faster, less complicated and more cost effective. Tackling the two key issues of cost and compliance in one solution, Microlise TBPM maximises fleet efficiency by allowing users to manage by exception, giving their time and attention to the trailers that need it while fully functional trailers remain on the road earning money.
Simplified trailer maintenance
Trailers are at their most fuel efficient when well maintained, and use of an Electronic Brake Performance Monitoring System like Microlise TBPM makes knowing when a trailer needs taking off road for maintenance simple, with constant near real-time monitoring saving money both in fuel costs and by potentially reducing the need for additional trailers to cover for maintenance-related downtime.
DVSA-recognised
Reducing the risk of accidents attributed to EBS trailer failure, the solution is DVSA-recognised, bringing operators peace of mind that they are remaining compliant with existing safety guidelines. Following UK guidance, it also feeds into the DVSA Earned Recognition Scheme. Whilst the DVSA does not explicitly approve of specific brake performance monitoring systems, it acknowledges that the technology offers a positive and useful alternative to the use of calibrated roller brake tests.