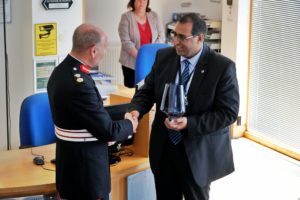 The Queen's representative in Nottinghamshire, Sir John Peace, has presented Microlise Chief Executive Officer Nadeem Raza with the Queen's Award for Enterprise: International Trade.
The ceremony took place today at Microlise's global headquarters in Eastwood, in front of staff and special guests including the Chairman of Nottinghamshire County Council Cllr Sue Saddington, the Mayor of the Borough of Broxtowe Cllr Derek Burnett BEM and Eastwood Cllr Tony Harper.
Microlise, one of Europe's largest telematics and transport management solutions providers, was named a winner in the annual Queen's Award for Enterprise earlier this year. The awards are the UK's most prestigious business awards, recognising and celebrating business excellence across the UK.
The accolade for International Trade has been awarded to Microlise for its outstanding results in exporting.
A major business objective over the last three years for Microlise has been to grow and sell directly to international customers. The company is achieving this via new offices established in France, India and Australia.
At the same time, Microlise is also working closely with existing domestic customers to help them to be more successful internationally. This has been achieved in a number of territories, for example delivering transport telematics services to Tesco in Thailand and JCB operating in more than 180 countries worldwide.
Microlise designs, develops and creates technology which captures data and creates compelling information about vehicle usage to aid with driver, journey and delivery management. These software and hardware products help fleets to reduce the cost and environmental impact of their fleet operations while helping transport service providers and retailers to deliver an excellent customer experience.
Speaking after the ceremony Nadeem said: "It has been an honour to have welcomed such esteemed guests to Microlise for the presentation. I would like to take this opportunity to thank the Microlise team for their efforts in helping us to realise strong international growth over the last three years. We've been able to double net profit in export markets in that time and continue to look to the future with optimism."
An inaugural Queen's Award winner, Microlise is a pioneer of logistics and telematics technology and has been delivering enterprise grade solutions to the road transport sector since 1999. The company works with two of Europe's leading truck manufacturers, as well as Tata Motors in India and JCB.
Ends
About Microlise
Microlise telematics, journey management and proof of delivery products help its customers reduce costs and the environmental impact of their fleet operations. This is achieved by maximising vehicle utilisation, increasing operational efficiency and improving economy and safety; whilst helping to deliver the very best customer experience by providing real-time visibility of the fleet against schedule.
An award-winning privately owned business based in Nottingham in the UK, Microlise invests significantly in research and development annually to ensure its solutions continue to be underpinned by market-leading technology. In 2018 Microlise won the Queen's Award for Enterprise – International Trade.