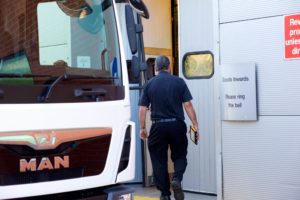 The amount of time it takes for a vehicle and driver to arrive at a site, deliver a consignment, pick up when necessary and move on can be one of the most important factors in keeping a fleet on schedule.
For transport managers, understanding these times across the many sites visited is vital. Having a solid understanding of what your turnaround times are, where you are performing best, where the trouble spots are and how you can improve will lead to a more profitable operation.
This is an area where transport managers can take control, in ways that are often not possible out on the roads where unplanned traffic incidents and unforeseen delays can have a significant impact.
Here are our top six tips for keeping turnaround times to a minimum.
1 – Automatically Alert Your Destination
With the ability to constantly monitor estimated time of arrival (ETA) you can set your transport management solution to send an automated message when your vehicle is approaching a site. The message can alert staff at the delivery site of an imminent arrival, allowing them to prepare and reduce wasted time.
2 – Consistently Monitor Your Entire Fleet
A geofence is simply a virtual boundary, placed on a map. Geofences can be used to benchmark your existing operation. You can monitor your turnaround times, identify trends and spot anomalies. The data you gather will be instrumental in discovering fleet, vehicle and driver turnaround trends.  If certain sites are consistently outperforming others, or if some drivers are consistently slower, you can investigate and take action.
3 – Let Site Staff Proactively Find Arrival Times
You can give every site you are delivering to access to a live itinerary for the day, updated in real-time as activities unfold out in the real world. These are available in our Journey Management product and are accessible via the web, giving staff at the site you are visiting the capability to find out what the estimated time of arrival is. This gives logistics operatives full knowledge of what is being delivered and when, letting them plan their day and the resources they have available to them accordingly.
4 – Give Your Drivers the Knowledge; and by Extension, Power
Site notes, risk assessments and key information about what to do, and what not to do on arrival can be provided to your driver. Through in-cab tablet computer or handheld device, key information as simple as plain text or as complicated as a full PDF can be provided, available when it is needed. This cuts down on wasted time on arrival and speeds up the whole delivery process.
5 – Enable Effective (Cost Efficient) Comms
Your drivers could also have access to a digital phonebook detailing the key contact details of the site they are about to visit. This lets them phone ahead, perhaps via their in-cab device. This is often useful in the B2C arena where drivers can phone the next customer and let them know that they are on their way, but applies also in terms of deliveries to stores, depots and other sites. Two man deliveries often employ this technique to cut their turnaround times by ensuring the next customer is prepared for their visit.
6 – Motivate Your Drivers
The simple fact that your drivers know their turnaround times are being monitored, through technology, will be beneficial. It will act to ensure time is used most effectively. It might be that you want to reward the best performing drivers in order to incentivise good performance and quick, effective working.
In short, technology offers you a number of ways to take back control and cut your turnaround times through greater visibility, access to information and better communications.
The ultimate result of deploying these techniques could be a boost to your bottom line.