With the price of diesel fuel now exceeding the record highs last seen in 2012, fuel efficiency is back on the agenda as a major concern for many operators. Operators are also beginning to shift their focus towards investing in Electric Vehicles (EVs) particularly around last mile deliveries, as Government places  increasing pressure on the transport sector to reduce emissions in order to reach their 2030 'Net Zero' targets.
The 22.2 product release expands on our existing Planning & Optimisation product with this in mind, adding a number of new features to support efficient and optimised planning for EVs alongside our customer's existing fleets to support the growing move to electric.
As another big milestone in our programme of continuous improvement, we are also pleased to announce that Planning & Optimisation is now available for customers in India, bringing all the benefits of efficient, automated route planning to fleet managers in an entirely new region.

When looking at electric vehicles, one of the primary concerns for operators is the ability to have confidence that journeys can be performed using EVs at a good enough range to match conventional vehicles, without having to spend extra administrative time babysitting battery charge levels and checking the location of the closest charging infrastructure in case of an emergency.
While rising fuel prices and the impact of negative public sentiment towards the use of fossil fuels can provide the motivation to experiment with EV's, Microlise is keen to ensure that support is also in place for operators to make the transition safer and more economically sound.
With the 22.2 release, we have expanded the existing restrictions that can be placed when optimising plans to include a range cap (measured in kilometres). With the right range cap in place, operators can now add EVs to their plans, confident in the fact that their drivers can make it safely through their journeys and back to the depot.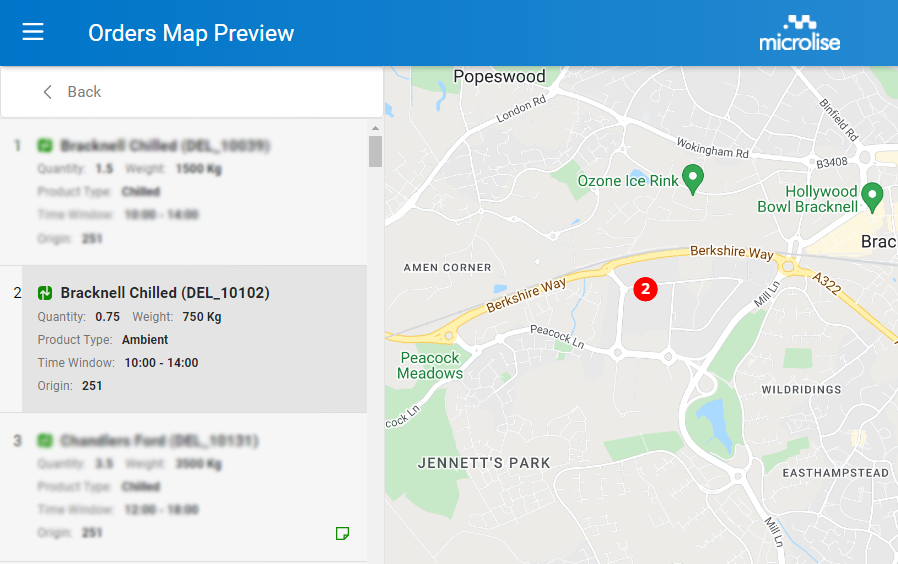 To allow planners to get a close look at the potential hazards and challenges that their drivers may face on their approach to a site before they schedule a visit, the map view now offers a site and location preview. This will help enable faster, informed decision-making on whether (and how best) to adjust their additional plans directly at the point of creation, saving time or manual changes later.
If the access route to one site includes a hazardous low bridge or is less efficient for an EV due to steep hills, and there is a more easily accessible site nearby, for example, planners can now save time and improve their driver's fuel efficiency before they ever start their journey by reviewing their options on the map and adapting their plan accordingly.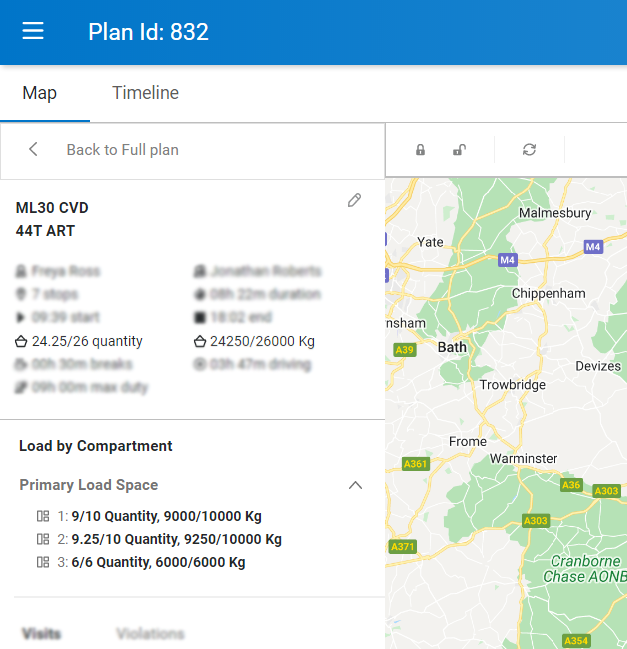 Traffic conditions, local topography, and maintaining the right tyre pressure are just some of the factors that ultimately decide the fuel efficiency of a delivery. In both conventional vehicles and EVs, the weight of the goods in transit can also have an impact – lighter vehicles can move faster and, in the case of EVs, save time and money by recharging more quickly.
All available stock amounts (i.e. weight, volume, pallet quantity) are now available to view directly within the Vehicle, Site and Journey cards across the Planning & Optimisation product. This provides an accurate picture of how much is being stored on a vehicle versus its full capacity, and allows users to take vehicle weight into account while creating their finished plan to ensure the most efficient journey possible.