A number of improvements and system enhancements have been added to support our customers as summer activity continues to ramp up. The expansion of email notifications to help combat the risk of late arrivals to sites, increased visibility of stock movements on vehicles, and several smaller usability improvements are just a few of the recent changes introduced.
Consignment details and load details have been enhanced in the Web Portal for Journey Management. Transport supervisors will now be able to view vehicle loading history information thanks to a quick and easy grid view showing which staff have loaded which items onto a vehicle and when. This allows for a more comprehensive overview of stock movement, making it easier to spot and tackle choke points, if and when they arise.
A new business rule has also been introduced to trigger email notifications to indicate an unscheduled stop (i.e. an en-route vehicle stopping unexpectedly) still in-progress, to provide an early warning ahead of any late arrivals. This will help supervisors to proactively to manage a situation which might otherwise turn into a late arrival, or to minimise the impact for  a delay if it cannot be avoided.

In the 20.5 release, we allowed for the pre-population of task results for certain driver tasks in the SmartPOD mobile app to prevent the need for repeat work and to minimise on-site delays. With this release, we have expanded the scope of this change to now include pre-consignment and post-consignment tasks to benefit a wider range of our users.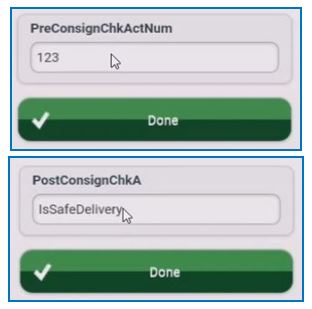 When requesting video footage on the Web Portal, Fleet Performance customers with our ClearVision Camera solution can now treat the Fleet Playback screen as a one-stop location for all available footage for any given vehicle. Camera footage requested from the onboard DVR unit as part of Incident Analysis can also be viewed in this area, making the process of reviewing captured footage faster than ever before.
In this latest update, our ClearVision camera solution is further improved, allowing driver-facing cameras to be disabled unless the vehicle is active, while the ClearVision system is recording (in vehicles with a Microlise SmartGateway connected digital tachograph). This will help operators to strike a balance between keeping their assets secure while maintaining a safe and comfortable working environment for drivers where privacy is actively protected particularly during break periods.

Alongside several small usability updates to the timeline and map areas of the Planning & Optimisation tool intended to provide an added level of clarity for planners, master site information can now be imported directly into the tool from a desired third-party ERP system. This will make it faster and easier for users to relay data into the tool in a usable format, to add and delete new sites and update their existing information as needed.
For a more in-depth look into the enhancements discussed here, and other areas of interest within the wider system, join us for our quarterly product webinar in August.