A Transport Management System (TMS) – also known as transport management software – can transform many aspects of your transport operations, from planning through to invoicing.
But what is transport management software, and how does it work?
In this article we answer all the big questions about TMS, giving you the information you need to invest in the right transport management system for your business.

What is a transport management system (TMS)?
TMS is a software platform that helps optimise the movement of goods. If your business uses trucks and vans to carry out collections and deliveries, a TMS can help you do it better. Think of it as a digital tool which can improve the planning and execution of goods movements, as well as enhancing efficiency, cash flow, and compliance. Furthermore, it helps you deliver a better customer experience, leading to stronger client relationships and customer retention.
A good TMS will give you real-time visibility of your entire logistics operation, from job creation and planning through to automated invoicing. Not only does it automate some processes, doing them quicker than an entire team of people could – it also plans more efficient vehicle loads, routes and schedules.
Watch our video on Microlise TMS (Above)
In addition, you can track vehicles and consignments with location data, have driver and vehicle compliance data at your fingertips, make sure you meet increasingly demanding customer SLAs, and even automate the invoicing process.
By collating and organising data then making it easily accessible, a TMS give you ultra-clear insights into every aspect of road transport operations. This enables you to pinpoint areas where you can improve even further.
Why do I need a TMS?
A TMS is a problem-solver as it helps address some of the growing challenges that hauliers and last-mile delivery operators are facing. In a competitive business environment where margins remain tight and consumers have ever higher expectations, a TMS can be the difference between failure and success. Ultimately, it can help you build a better business by becoming leaner and more efficient, making it possible to exceed client expectations.
The rise of online retail is a trend that is only heading in one direction. E-commerce is a digital platform and will increasingly insist on interacting with other digital transport platforms.
On top of this, commercial vehicle operators work in one of the most heavily regulated areas of industry – and rightly so. Within these areas, demands on the speed, timeliness, safety, and sustainability of goods delivery have to remain paramount.
Perhaps the question you should be asking is, "can I afford not to have a TMS?" – and the answer is, "no"!
Transport operators are at a critical juncture where they must consider the option of embracing digitisation to ensure longevity. And if you don't use technology like TMS to make your business more competitive, you risk getting left behind.
Who uses a TMS?
Transport management systems can benefit any business which uses vehicles to move goods. The most obvious examples are hauliers, third-party logistics (3PL) operators, and last-mile delivery companies. But others include e-commerce and online retail companies, as well as conventional wholesale and retail operations. Other sectors benefiting from TMS include automotive, pharmaceutical, manufacturing, food service and even the public sector.
If you are looking for ways to transport goods more efficiently and more cost-effectively, then a TMS can help.

The rise of cloud-based solutions means that TMS is now more accessible than ever. Platforms in the cloud have changed the way you pay for TMS and therefore how quickly you see a return on investment. The software as a service (SaaS) model means you pay a monthly fee rather than everything up front. This should mean that you start to see savings almost immediately.
Smaller businesses sometimes still rely on spreadsheets, or even whiteboards, to plan transport. In most cases, a TMS will achieve fast ROI – even for smaller operators.
What are the key features of TMS?
Overall, a TMS helps you to automate certain processes, standardise others, and improve efficiency in all of them. The key capabilities of a good transport management system are:
1. Planning
If you're involved in multi-drop delivery or collection, planning can make or break you. A good TMS will either fully – or partially – automate the planning of loads, routes and schedules. Jobs go in one end and optimised plans come out the other.
But what do we mean by optimised?
The TMS calculates the best way to load vehicles, the shortest routes, and the most efficient schedule in terms of order of stops. It can do all this while also factoring in customer SLAs and specific time windows.
2. Operational efficiency
A famous military saying is, "no plan survives first contact with the enemy" – and the same is often true in transport. Plans on computer screens rarely stay the same once vehicles are deployed in the real world. This might mean last-minute changes from customers, road closures or severe congestion. A good TMS gives you the real-time information you need to react to these changes and rise to the challenges, while always keeping your customers informed.
Clients also increasingly expect higher levels of communication and better accuracy with estimated times of arrival (ETAs). Having the data at your fingertips is invaluable in providing this enhanced customer service. This works both ways as electronic proof of delivery (ePOD) means that you get instant confirmation when a client receives their consignment. Add in automated invoicing and you've got a TMS that can help you invoice quicker, improving your cash flow.
Last but not least, having all the records and digital documents you need in one place ensures fewer mistakes are made and everyone involved in goods transport is on the same page. Plus, the significant reduction of paper-based documents will greatly reduce administration time and contribute positively to your sustainability aims.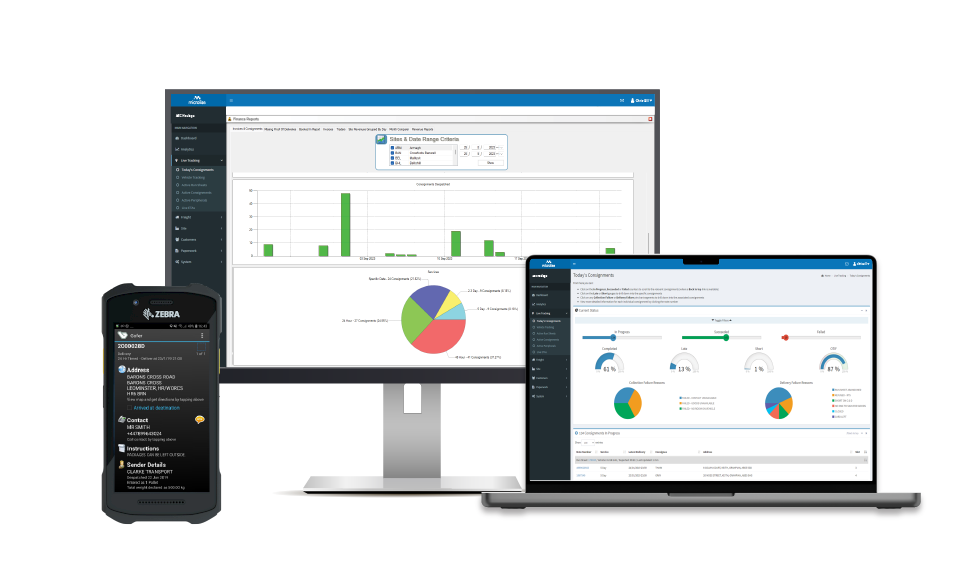 3. Integration
A good TMS will integrate with other systems, ensuring that you don't end up with data silos or lose track of vital information.
For example, a TMS can integrate with a warehouse management system (WMS), enterprise resource planning (ERP), and accounting software. You can even integrate with third-party telematics platforms.
4. Data analytics
Data is only any good if it is digestible and if it delivers insights that actually relate to your business KPIs. Because a TMS is focused on transport, it gives you data analytics you can genuinely use to further improve your business.
Here are some of the key ways that you can use a TMS:
Automate – there are some things that computers can do faster and more efficiently than humans. Transport planning can be largely automated, and who doesn't want invoices automatically sent out once proof of delivery is received?
Plan – a good TMS is expert at planning loads, routes, and schedules.
Monitor – track vehicles and goods in real time; monitor driver performance
Communicate – improve communications between different departments in your business, but most importantly, improve your customer experience.
Analyse – have data analytics on your business KPIs at your fingertips.
Improve – use these analytics to identify areas where you can improve.
Repeat – standardised, repeatable processes make you more efficient and more transparent.
What are the benefits of TMS?
New technology has to deliver a return on investment – here is how a TMS can benefit your business:
1. Leaner and more efficient
A TMS automates or semi-automates manual tasks such as order processing, load planning and route scheduling. This speeds up those processes, freeing up human resource for other tasks.
2. Better planning
The planning capabilities of a TMS are far greater and quicker than a team of people. The software can make complex calculations to optimise vehicle loads and schedules. Route optimisation in this way reduces transport time between drops and cuts fuel consumption. This means faster order fulfilment, fewer wasted miles, and improved compliance with customer SLAs such as specific time slots for deliveries.
3. Cost savings
Higher productivity and better planning mean lower overheads, both in terms of office resource and cost per delivery/collection.

4. More transparency
A TMS delivers real-time data on vehicle and consignment locations, as well as ePOD capabilities as a digital record of delivery. This not only helps your team, but gives your clients better transparency through clear communication on ETAs. Some platforms also include driver behaviour monitoring so you can enhance safety by further improving driver performance.
5. Improved customer service
Better compliance with customer SLAs, better communication on ETAs, electronic proof of delivery and more accurate invoicing all add up to improved customer service. An easily accessible digital "paper trail" also helps quickly address and resolve any issues. This ultimately leads to stronger customer retention and more business growth opportunities.
6. Enhanced safety and compliance
Building a strong culture of compliance is made easier thanks to automating some of the processes. Having all the data in one place makes it more straightforward to generate documentation and stay on the right side of the law in terms of safety regulations and compliance.
7. Cash flow
Electronic proof of delivery combined with automated invoicing means you bill your clients quicker and more accurately, improving cash flow.
8. KPI data
Access data analytics on your company KPIs, helping you to monitor performance, identify areas for improvement, and make more informed decisions.
How to choose the right TMS
TMS covers a broad range of different platforms with varying capabilities. To make sure you choose a TMS that meets your business needs, create a list of priorities. For example, it might be important to avoid paying up front for the platform due to cash flow constraints, or ePOD might be vital to a new contract you've just won.
Here is a handy checklist to get you started:
Can I use it out of the box?
Does the provider offer customisation and/or bespoke features?
Does it plan loads, schedules, and routes more efficiently?
Does it track vehicles and monitor driver performance?
Does it generate electronic proof of delivery?
Does it manage orders and customer records?
Does it enable better communications with clients?
Does it offer automated invoicing?
Will it help us with compliance?
Does it easily integrate with other systems such as ERP, WMS, or our accounting software?
Do I have to pay for features I don't need?
Can I upgrade or add on other modules in the future?
Do I have to pay up front, or can I pay a monthly subscription fee?
Is training included in the costs?
How many licences will we get?
Is it hosted in the cloud or on our servers?
What level of ongoing customer service will we receive?

What is the difference between TMS on a cloud or on a server?
In the past, only larger transport operators could afford a TMS, as they were expensive and had to be installed on your company's servers.
The rise of cloud-based solutions means that TMS is now more affordable and accessible than ever. Cloud-based systems can be deployed faster, are easier to update and provide a faster return on investment, meaning companies can save as they go.
Here is a brief explanation of the differences:
1. Cloud-based
Typically, a subscription-based system is quick to set up and requires little or no additional hardware. Users benefit from being able to access them anytime, from anywhere.
Another key benefit is that cloud-based systems are usually presented as Software as a Service (SaaS) models, so do not require large up-front capital investment. They are also more modular so you can add or drop elements to suit your specific business needs.
2. Server-based
Before broadband, the only way to use a TMS was to have it installed on your servers. This meant you weren't reliant on an internet connection to use it, so if your business is based in a remote location with unreliable internet, you might still want to consider this option. But bear in mind that updating and maintaining server-based systems is more time-consuming and costly.
How much does a TMS cost?
As with how a TMS works or what it includes, the cost can vary significantly. There are several elements to pricing – and you should consider them all:
1. Implementation
Cloud-based systems typically have lower implementation costs. This is because it costs more for a provider to send out an engineer to install their TMS on your servers.
2. Training
Training is vital if you are to start reaping the benefits of a TMS immediately – and you want to maximise those benefits. Some TMS providers include training but with others it is an optional extra and comes at a price.
3. Licences
How many people in your business need access to the system? It is often cheaper to negotiate these licences as part of the purchasing process than it is to add more at a later date.
4. Service and support
What is included in your provider's service and support package? Look for confirmation of key elements such as software updates, access to the customer support team if you have issues, and a company with a strong track record in delivering excellent customer service.

How long does it take to implement a TMS?
There are so many variables in the implementation process that it is hard to give an accurate estimate. As a ballpark figure, a smaller company can complete implementation in two months, while it can take up to six months for larger or more complex companies. For server-based installations, be prepared for it to take up to a year, particularly if you are migrating from older systems.
What is the future of TMS?
The first thing to understand is that TMS is the future – it will become just as commonplace in our industry as other technologies like accounting software. You will not be able to compete without it.
TMS has evolved over the years and developers will continue to innovate. In the future, you can expect your TMS to include some of these emerging technologies:
1. AI and machine learning
A TMS can already make faster and more accurate calculations than an entire team of planners. In the future, AI capabilities will mean it can make more decisions on your behalf and make suggestions about implementing improvements.
Meanwhile, machine learning makes it possible for some of these automated processes to keep improving automatically. For example, the TMS will absorb data from real world operations to improve the accuracy of its transport planning.
2. Internet of Things
You're already benefiting from IoT, which enables a lot of real-time fleet management platforms. This is helping operators to cut carbon emissions and fuel consumption, reduce the risk of a breakdown, and enhance road safety. Advances in IoT will amplify all these benefits as well as bringing more to the table.
3. Blockchain
Blockchain helps to improve communications and visibility through every link in a supply chain. As this technology becomes more widespread, a TMS that integrates with blockchain will become increasingly valuable.
What should I do next?
Talk to Microlise about our TMS and fleet management solutions.