DO MORE… WITH LESS
Microlise Planning & Optimisation helps you do more with less. Planning becomes faster and more accurate without losing control or flexibility. Above all, it's integrated with our end-to-end product suite offering everything you need to plan and execute with ease and efficiency. Here's how…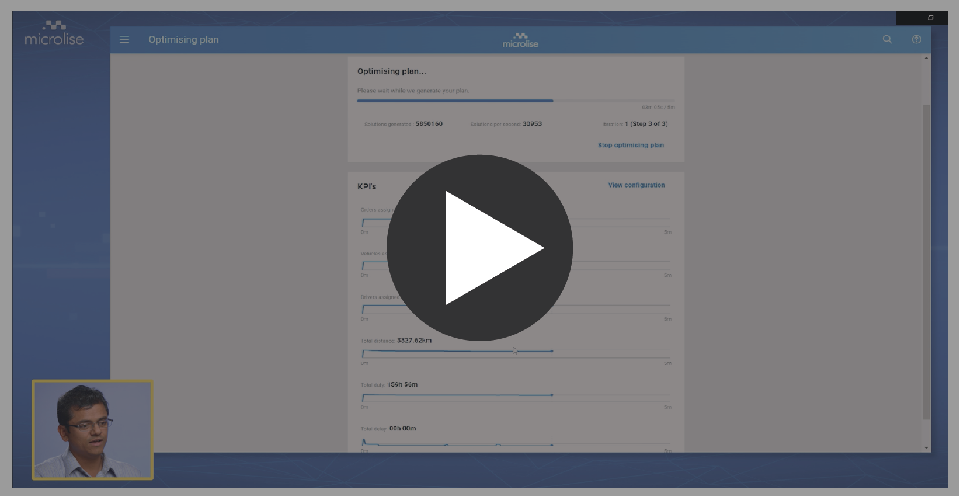 In the wake of the Covid 19 pandemic, it's become increasingly apparent that consumer buying habits, whilst gradually settling down, have changed. The demand for fast delivery models looks very much like it's here to stay..
Post-Pandemic Europe is also experiencing an inflation crisis, the highest fuel prices as a direct result of its first major conflict 20 years and an exacerbated driver shortage. Never before has it been more important to do more with less, ensuring that every resource at the disposal of transport managers is fully utilised, especially in the run up to the peak Christmas period.
So has the pandemic signalled the need for a step change in the way businesses plan their operations? Has it signalled the end of planning movements manually as many fleet operators do today? Our delegates at the Microlise Transport Conference 2022 seem to think so. When over 1,000 transport professionals in the audience were asked which technologies they thought would have the biggest impact on reducing costs, over 61% voted for better Planning & Optimisation – well above options like Driver Performance Solutions (29%), Driver Safety Solutions (5%), Anti-Fuel Theft Technologies (3%).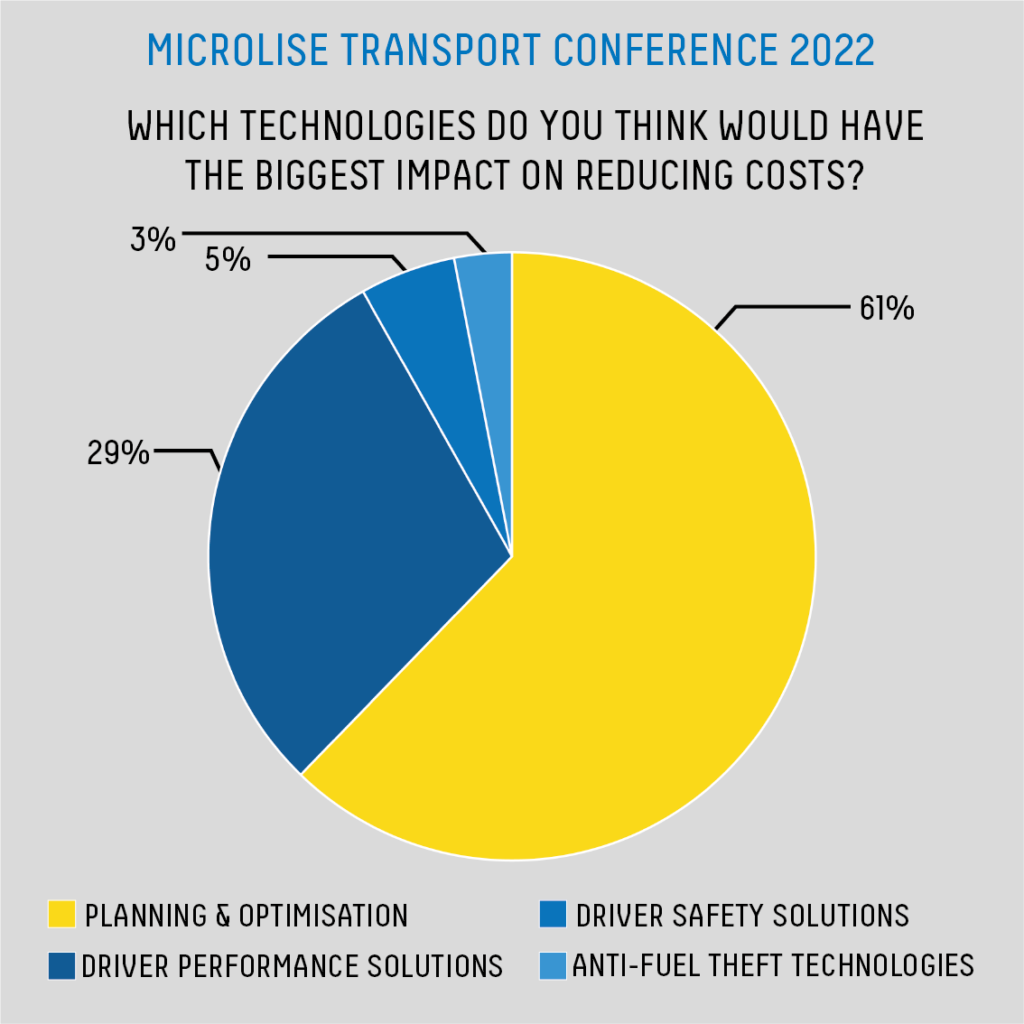 The sheer human effort involved in marrying up jobs with resources and organising them into workable routes is a burden. Manual planning can be riddled with inefficiencies, concealed due to inadequate monitoring of its effectiveness. A transport planning and optimisation solution can provide fleet managers with the capacity to dramatically reduce the time taken to create a plan whilst considerably improving the quality of the output.
The right planning and optimisation package helps you do more, with less. It can quickly create an optimised plan which mirrors near real world routes whilst fully utilising assets. It allows export for forward execution plus the capacity to monitor effectiveness and feed improvements back into future plans.
Planning & Optimisation
Assets such as tractors, trailers, rigids, vans (in their various forms) and drivers, transport goods from A to B… but it all comes at a cost. It is critical that assets are used to their maximum capacity and in the most efficient way in terms of mileage run.
Planning tools essentially take your list of jobs, allocate them to available resources and continually plot them into routes until the most efficient routes are fed into a plan. This ensures that assets are fully utilised and that any exceptions like spare assets or overspill of work is flagged to be dealt with. All planning tools increase efficiency compared to manual planning… some planning tools simply do it faster and more accurately than others.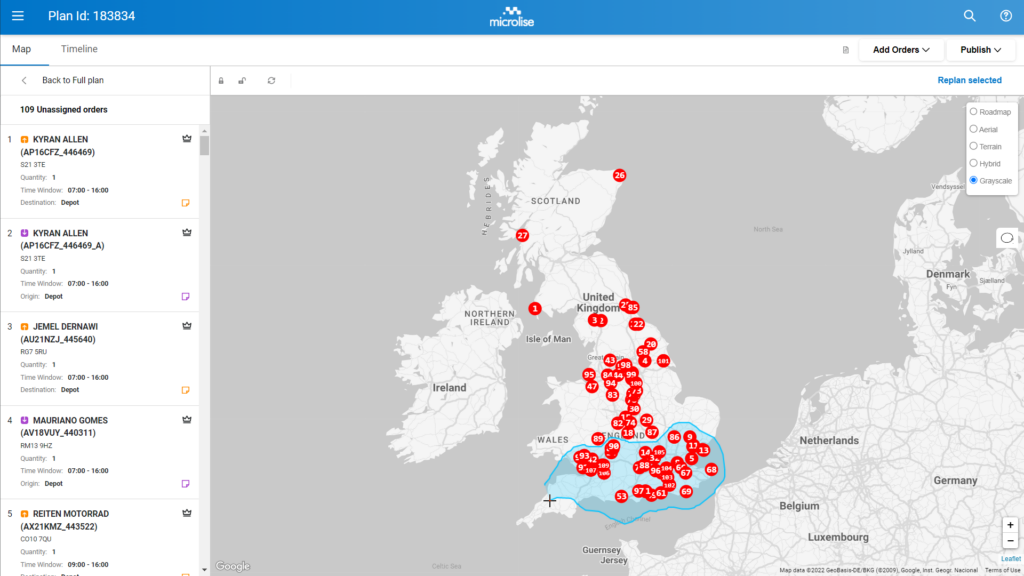 Microlise Planning & Optimisation allows you to set KPIs in line with what is important to your operation, for example, some operations may prioritise that time windows are met regardless of costs whilst others may insist that vehicles are fully loaded, or that mileage travelled is kept to a minimum. Whatever the KPIs, the solution will allow you to run the algorithm and see it progress using the visualisation screen, so you can decide when the plan has met your requirements and cut down on the algorithm run time.
Its accuracy means that near real-world routes can be incorporated into the initial plan. This cuts down on the amount of manual intervention needed but the system still allows for manual adjustments should they prove necessary, on both a timeline and on the map view. Alternatively, you can opt to plan manually by highlighting a group of jobs on the map and marrying them up with a selected group of vehicles.
The speed and accuracy of Microlise Planning and Optimisation saves time… and it also significantly increases flexibility. Last-minute jobs can be added and the plan (or part of it) simply re-spun meaning the deadline for accepting late jobs can be extended later into the day, even up to the point of delivery.
Microlise Planning & Optimisation capability is almost entirely, geared toward increasing efficiency through smoothing the delivery process. Load builder functionality aims to use vehicle information to produce a simple set of recommendations for how warehouse staff should best load pallet contents onto vehicles, so that delivery staff have the fastest and most efficient unload possible. Planners can also choose to group multiple visits to the same customer to avoid repeat deliveries / collections on the same day and plan visits around fixed or flexible time windows.
Integration
What happens once the plan is finalised? With manual planning, drivers will invariably be given a list of jobs to complete often with discretion as to how these are to be carried out. When a basic telematics system is used, the routes can be tracked but they are not always adhered to so the value rests in knowing where vehicles are at any given time.
The efficiencies gained from using Microlise Planning & Optimisation don't stop when a plan is produced. Through integration, the benefits are realised through plan execution and beyond.
A single click publishes the finalised plan through to our Journey Management product allowing users to monitor the progress of each route. Job lists can be sent to an in-cab device along with their agreed routes. A driver simply logs in via their digital tachograph head unit and begins their journey using one touch satnav to guide them from their departure point.
Back in the office, detailed ETAs are displayed on the Schedule Execution Board giving office staff visibility of routes as they progress, the assigned resources and colour coded details of any jobs running early, late or on-time is displayed and can be relayed proactively to customers and depots. EPOD information can also be gathered to allow office staff to maintain full visibility of what has been delivered… and more importantly, what hasn't.
Post execution analysis is delivered via a series of reports covering everything from route adherence through to Plan vs Actual to provide intelligence that can be fed back to improve future planning.
With the right integrated solution in place, internal planning processes and operational efficiency is enhanced. Microlise offers the only comprehensive, end-to-end solution from Planning & Optimisation, through unparalleled Schedule Execution and Proof of Delivery along with a full Driver Performance solution – The second most voted for cost saving technology at the Microlise Transport Conference.
To find out more about how Microlise Planning and Optimisation is faster, more accurate and fully integrated within the Microlise end-to-end solution, watch our overview video.