Microlise is proud to be a "Great Place to Work" certified organisation.
This accreditation highlights the values we hold and how we support and nurture our people while challenging them to innovate and grow as our business expands. With our workplace culture of trust and respect, we are committed to everybody reaching their professional potential and to encouraging a supportive and nurturing workplace culture.
Great Place to Work® (GPTW) is a global initiative for building, sustaining, and recognising high-trust, high-performing workplace cultures. More than 10,000 organisations from over 60 countries, across more than 20 industry sectors, currently partner with GPTW for assessments and benchmarking, and to identify actions to strengthen workplace culture. For over 30 years GPTW has recognised great workplaces around the world, from small start-ups through to multinational household names.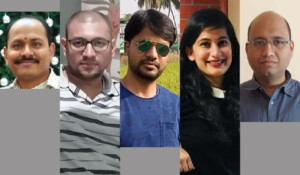 Our team is delighted with the news of our certification:
Dhanraj Patil, Senior Technical Lead
Microlise is committed to constantly innovating when it comes to embedding customer value in our technology. However, in my opinion, people come first in that process as we are all helped and encouraged to forge our own career path. At Microlise, an atmosphere of bonhomie fosters friendship, which in turn drives organisational productivity. This culture is shared by every unit within the company and has undoubtedly helped us to retain GTPW accreditation again this year. It's a truly amazing result!
Collaboration and teamwork are key to our business. Microlise has a keen focus on employee engagement and on evaluating an individual's performance – both from a personal perspective and in terms of how individual aims and aspirations align with company goals.
Rajesh Shukla, Lead DBA
Certainly, it is a proud moment for everyone at Microlise and kudos to those people across the Microlise family, who helped to make this happen. I think that everyone has a role to play in securing accreditation such as GPTW, we all have a vision of going one more mile every day, believing in the "ME" factor and in living our values while in the office or elsewhere.
Indeed, it's hard to imagine receiving plaudits such as this without our core values – We are:
Passionate & Positive
Make It Happen
Value The Customer
Care
Continuously Improve
Having supportive peers and managers along with excellent workplace policies helps as does having faith in one another – So, cheers to ourselves!
Omprakash Girgaonkar, Senior C# Developer (Embedded Team)
Timely rewards and recognition help to boost motivation at Microlise. In my opinion, the core values of the company make it a Great Place to Work. Taking ownership of work at a very early stage provides positive empowerment and makes a lot of difference when it comes to an individuals' career growth and progression.
Dhanashree Pradhan, Associate HR Executive
It does feel great to receive this accreditation. It has been a long journey and we all worked very hard to make it happen. My experience has been fantastic with Microlise as it has provided an environment of inclusivity, with employees receiving the support they require professionally and personally. Microlise inspires us all to continuously improve which is also one of our core values. Congratulations to us!'
 Mayuresh Manjrekar, Technical Lead (Embedded Team)
It is quite exciting to see how the company has grown and transformed in such a short amount of time. GPTW certification implies that the company has got great people, great values and a great work environment which allows talent to flourish. It makes me feel proud to be a part of this organization's growth story. In my opinion, the one thing that really sets Microlise apart from other companies and makes it a Great Place to Work is the support and flexibility that the company management extends to employees to ensure their wellbeing. Both India and UK management are very supportive in times of need. The last couple of years have been quite challenging for us all and yet the company spared no effort to ensure that employees had the best work environment in their homes and took care of our mental and physical wellbeing.
GPTW allows us to benchmark how we rate when it comes to our people practices and to set measurable goals and plans for future improvement. We are proud to be a GPTW and look towards adding many more such feathers to our cap.