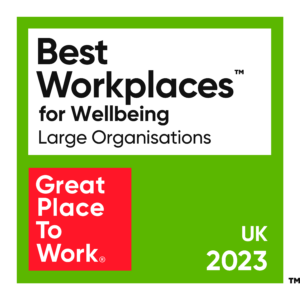 Microlise has officially ranked 29 among the large organisations for the best wellbeing category organisations on the list. Our position on this esteemed list is driven by our annual employee engagement survey, measuring the extent to which everyone across Microlise feels about the culture of wellbeing we've developed collectively, making us a truly great workplace for all!
"At the heart of every organisation are its people and looking after their wellbeing should be much more than a package of impressive perks on a careers website," explains Benedict Gautrey, Managing Director of Great Place to Work® UK. "We know when employees feel genuinely contented and at ease within their roles, they are much more engaged and productive.  Now in our second year of the UK's Best Workplaces™ for Wellbeing list, we're once again able to showcase the leading organisations providing cultures conducive to outstanding psychological, physical and social wellbeing.  A huge congratulations to Microlise for making this prestigious list."
Employee Wellbeing at Microlise
At Microlise we understand the importance of wellbeing, and already have a number of tools in place to support our employees with their mental and physical wellbeing. With Employee Assistance Programmes and over 25 Mental Health First Aiders already in situ, 2022 saw us launch our Wellbeing Strategy, recruit a team of Wellbeing Champions and held several wellbeing initiatives.
Looking Ahead
Our Core Values are at the heart of what we do and we are continually invested in championing our We Care value. Earlier this year, we launched our Employee Engagement Strategy, including a calendar of wellbeing events based on employee feedback. January saw colleagues join us in Long Eaton for a Park Run, February we have our Wellbeing Day, and that's just start of what we have planned for our colleagues this year!
About Great Place to Work
Great Place to Work is the global authority on workplace culture. Since 1992, they have surveyed more than 100 million employees around the world and used those deep insights to define what makes a great workplace: trust. In 2022, they launched the first-ever annual UK's Best Workplaces™ for Wellbeing list of organisations who stood out as delivering exceptional wellbeing support for their employees across all levels and departments.
Culture experts analysed thousands of employee surveys, assessing people's holistic experiences of wellbeing at work to determine the UK's Best Workplaces™ for Wellbeing list.  The surveys asked employees to comment on how their company supports their work-life balance, sense of fulfilment, job satisfaction, psychological safety and financial security. Evaluations also included an assessment of how well the organisation was able to deliver consistency of their employee experience across all departments and seniority levels.
Final Thoughts
Jackie Mitchell, HR Director, says "Winning a place in the listings has been a proud achievement because it demonstrates our 'we care' core value in action, doing everything we can to help our people thrive".
Not only are we certified a Great Place to Work, but being on the UK Best Workplace for Wellbeing list only highlights the importance of our values. They are integral to everything we do and that's how we become in practice the company we aim to be on paper. We value each and every person and pride ourselves on providing an inclusive workforce, and we continually aim to go from strength to strength because of the talented people in our teams.