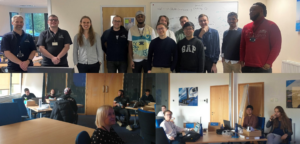 Exciting times as we welcome nine new Graduate Software Engineers to our growing Software Engineering team! Over 100 applications were whittled down to join us in our assessment centres, which are carefully crafted to comprise of several tasks, assessing technical and soft skills; allowing attendees to put their best foot forward whilst meeting various member of the Microlise Software Engineering team and the Class of 2022 was born!
The Academy 
It's been a busy couple of weeks for our Graduates as they build their understanding of key skills, including mental wellbeing and resilience and career development. This three-month training plan includes a bootcamp, where they can fully immerse themselves into the world of work and gain a core understanding of over 30 programming languages including C#, .NET, and SQL. Not to mention refining their knowledge of complex programming principles and architecture, so able to start work on real projects from the offset. Comprehensively the bootcamp provides our Graduates with over £2000 of dedicated training, allowing them to stretch their wings with the best foundations for a longstanding career in Software Engineering!
Our new graduates have their say! 
But don't just take our word for it! Here are some quotes from our current Graduate's on their experience of the assessment centres and the bootcamp so far:
"For me it's been a very friendly and supportive environment. Development leads make it very clear that making mistakes is ok as long as we learn from them. Working as a team and having the previous graduates guiding us, giving us advice and having a laugh with them makes the past weeks I've been here not even feel like a job really. It's fun in the office, always something to do and people to learn and chat to." – Thomas
"It does not feel like it has been a month since we started. Being able to work on real projects while also having the reassurance that it is ok to fail makes Microlise a wonderful environment. It also helps that everyone is hungry to learn and fun to work with.
My team is currently working on an easier way for Developers to log their time by migrating an application that automatically generates general tasks for teams. It does feel like there was a lot of thought and care put into how the bootcamp was run and I look forward to growing in the company." – Laurie