The 21.3 product release adds new functionality to the system, and includes enhancements to some of the functionality introduced in previous releases. This includes the expansion of existing utilisation reports, the addition of a tamper proof loading camera for ClearVision customers, and a range of improvements to existing facets of our Planning & Optimisation product, to highlight just a few.
This release also introduces a new version of the Knowledge Portal, including improvements to the course builder functionality and an updated user interface which now aligns more closely with the rest of the web portal and Microlise suite of applications.
A future update to the web portal user interface to improve page navigation, and the introduction of our digital adoption platform to provide improved self-help guidance for users on system features are also explored within the documentation for this release. An upcoming webinar led by Paul Pounder, our product manager for the Knowledge Portal, will be held to explore these upcoming changes in greater depth.
JOURNEY MANAGEMENT
The Driver SmartPOD & Tacho Breaks report, available to Journey Management customers now includes data gathered from the SmartPOD app. This will help to better inform administrative and financial planning by providing a wider picture of driver break frequency and duration, sourced from both the mobile app and available tachograph data.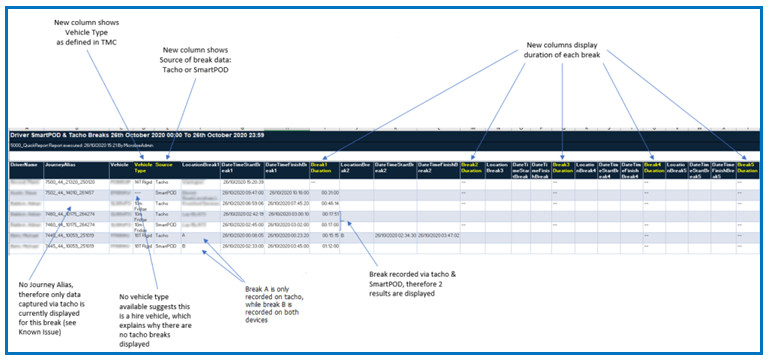 EPOD MOBILE APPS
Customers utilising our mobile applications can now use new in-app functionality to create ad-hoc asset return consignments when required, either via barcode scanning or manual data entry, allowing for an efficient tracking of assets within the app without adding to the manual workload of either drivers or administrative staff.
The existing mobile payments functionality in SmartPOD has also been further enhanced to improve customer experience. The transparency of the user interface has been increased to provide for a more in-depth range of information during the payment process.

FLEET PERFORMANCE
With the 21.3 release, the statistics presented within our 535 Trailer Utilisation Summary report within our Fleet Performance solution now includes the activation and/or deactivation date of trailers, allowing for a more accurate calculation of their active usage data within the context of the wider fleet and supporting proactive, informed decision-making.
Customers who utilise our combined ClearVision risk reduction and blind spot camera solution can now also choose to add our new tamper proof load camera to their selection of hardware, benefiting from the ability to capture and review footage from up to six available camera locations across several points on their vehicles.
PLANNING & OPTIMISATION
We are pleased to announce that our Planning & Optimisation product is now available in multiple languages, with French as the first alternative language.
The baseline functionality for re-optimising existing plans was introduced with the last release. This has now been further expanded in 21.3, making the process of putting together a plan faster and more efficient by allowing the user to make manual adjustments to both single and multiple routes directly via the timeline and then directing the engine to re-optimise them. At the click of a button, users can now also refresh and synchronise existing orders from the application's existing order pool to save time during the process, rather than having to create a new plan from scratch if some orders have been updated.
With this release, users now have an improved capability to view, import and download ad-hoc orders (certain types of data were previously restricted to imports alone) via CSV in the same standardised fashion as all other master data. This increases the flexibility and efficiency of using the application to incorporate ad-hoc orders alongside pre-existing ones within a fully optimised plan.