Our latest product release supports operators who need to get the best out of their workforce – both core and extended – to counter the challenges of the peak holiday period ahead.
The 21.10 release gives operators the ability to provide subcontractors with an improved work experience. Route previews are now more widely available, providing drivers with a complete picture of their journey and the road conditions they might encounter. In addition, transport managers can reassign a journey in progress, thus ensuring there are no stalled collections or deliveries.  Our Planning & Optimisation product has also been enhanced, to further automate the time-intensive process of route planning.
In the current climate, being able to seamlessly add to your workforce has never been more critical. Subcontractors can be armed with all the tools they need to carry out work on your behalf.  For many years, our SmartPOD app has been available for download from GooglePlay with a simple QR code scan giving subcontractors access to a specified job list for execution and POD information capture.
In a past release, we allowed users to click through from any job on a list into Google Maps, with SmartPOD automatically populating the third party navigation system with address details and sending the driver on their way with a minimum of fuss or effort.
Thanks to increased integration with third party satnavs in this 21.10 release, subcontractors using SmartPOD can now preview a suggested route before they set off – a function that was previously only available to employees who had a company device and the CoPilot navigation app.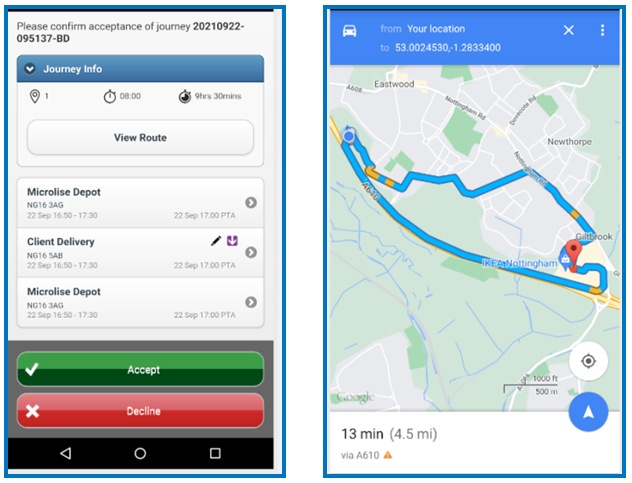 Previewing routes before taking off can prove highly beneficial to subcontractors. Drivers can see estimated journey times and heavy traffic patterns and better plan their approach to save time across long distances or shorter, more local routes.
Drivers are also able to obtain journey updates, should any last-minute changes need to be made to their journey. This helps operators to schedule second delivery or collection attempts, or include last minute  deliveries with confidence, to provide the highest standard of customer service.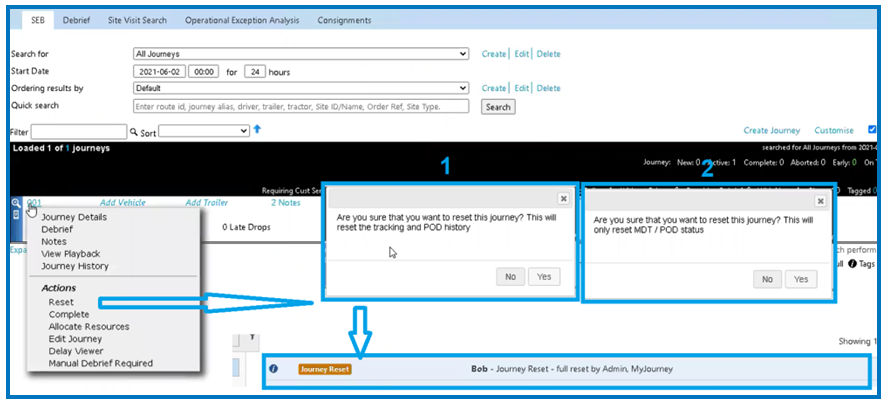 Another useful feature has been added to our Journey Management product in this latest release which allows for the seamless continuation of an interrupted journey. It is now possible for transport managers to reset their journeys within the Web Portal, allowing another driver to pick up a journey which has already been assigned should the original driver be unable to complete it due to unforeseen circumstances for example, a family emergency.

In a previous release, customers were able to automate their route planning with our Planning & Optimisation product to complete several types of tasks from the map view as well as the timeline view, without wasting valuable time swapping between the two screens. This makes the planning process more efficient and delivers a smoother experience, with changes from the map screen carrying across to other areas of the product as plans are updated.
Planners can use the map screen to assign orders to an existing route (or un-assign cancelled orders) and can move their orders between planned routes to ensure maximum efficiency. With the current release, planners can now identify any violations that occur as a result of their manual changes so that they can be rectified in a timely fashion.